FaffCon…clusion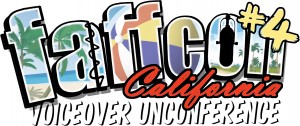 I was privileged to attend FaffCon for the second time in late March. If you're not familiar with FaffCon, it's a voiceover unconference run by the lovely and talented Amy Snively. I am always humbled by the outpouring of information, insight and just plain good will at FaffCon- with an attendance limited to 100 professional working voice talents, it's a rare community to be a part of!
The format of FaffCon is an "unconference", which means it's totally driven by the participants. There is no agenda coming in, all the content is created collaboratively by the people attending. We're all experts, we're all learners, and we're all peers. Whether you've been doing this for only a couple of years or a quarter of a century, the contributions you make are valued and the information you come away with is beyond compare.
I discovered something about FaffCon, though- the investment pays off in exponential amounts. At the first FaffCon I attended (number 3, in Harrisburg, PA) I learned a huge amount. The takeaways I had were very technical in nature and while extremely valuable were still quite narrow in scope. I took those "golden nuggets" (the Faff terminology for a piece of information you got from someone at FaffCon) and applied them- I think pretty well. This FaffCon, the insights I had gained as a result of the previous one, plus my intervening experience, enabled me to pick up on a whole new level of understanding about my business. I had a number of realizations about how I was approaching auditions, editing, and the quality of my sound- and they would not have been possible without the insight I had gleaned from the previous FaffCon.
I can't tell you how much I'm looking forward to FaffCon 5!
Some Thank-Yous
I wanted to take a moment and give some personal thanks to a few Faffers for their contribution and friendship. I know for a fact that I am probably missing a few, so my apologies if I missed you! 🙂
Peter Bishop – What can I say, my friend? It's always wonderful to see you- your insight, knowledge, and your friendship are something I look forward to every time we meet. I consider myself very lucky to count you as a friend and fellow narrator- and I can't wait until the next time we get to have a drink and talk!
Marc Cashman – I truly enjoyed meeting you, even though our conversation was sadly a brief one. I can speak for pretty much every Faffer when I say we were all grateful for your contributions. As Dan Friedman said (paraphrased), watching you work and share your incredible talent on the FaffCon crowd was a privilege. Thank you.
Liz de Nesnera – It was so much fun to see you again. Your energy and enthusiasm make every FaffCon a wonderful experience- not to mention your experience and insight!
Dustin Ebaugh– I would never count FaffCon a success if I didn't meet at least one person who I considered a personal friend. It was great to meet you!
Melissa eXelberth – I had so much fun talking with you- your boundless energy and willingness to share your experiences with other Faffers was humbling. I really enjoyed our discussions and I look forward to the next time!
Dan Friedman – There is little to say that hasn't been said elsewhere, but I'll repeat it here because frankly, it bears repeating: FaffCon would not have been the success it was without you and your boundless energy, totally selfless attitude and expertise. Thank you from the bottom of my heart. Can't wait to see you again, bud!
J.S. Gilbert – Don't let anyone fool you, you're good people. I was incredibly gratified to make your acquaintance and I'm not sure you know how much your contributions were appreciated. Thanks, my friend.
CC Heim – Another Faff Staffer without whom we wouldn't have made it. Thank you! You are made of awesome.
Debbie Irwin – Such a pleasure to meet you again. You are an incredible talent and I hope someday to be able to emulate how easily you bring that talent to bear.
Mara Junot – Do you EVER stop smiling? I certainly hope not, it would shake my faith in the fundamental constants of the universe. You were an absolute joy to meet!
Dan Lenard – Your technical prowess is incredible and it's remarkable you share it so selflessly at FaffCon. Thank you- I always learn something from you!
Bruce Miles – If talent could be transferred by proximity, just sitting next to you at lunch advanced my career by a decade. It's always a pleasure to see you- I still chuckle when I recall your performance in the improv panel!
Lauren McCullough – How do I put this… Without you, I don't think we could have pulled it off. Scratch that, I know we couldn't have. You made it possible. I wish there were a way to communicate my profound gratitude for everything you did beyond just saying "thank you"- language is insufficient. You're a wonderful person and I'm grateful to know you.
Peter O'Connell – Your energy, ready wit, sense of humor and willingness to laugh at pretty much anything make you a treasure. Thank you for your work on FaffCon! I'm definitely looking forward to the next improv panel. 😉
Jamee Perkins – I hope your foot is recovered by now! I'm looking forward to seeing you at the next FaffCon- I just wish there were more time for all the discussions!
Jenifer Platt – A pleasure as always seeing you. Your enthusiasm, razor wit and talent make a formidable package, and I learned a lot from you. Thank you.
Amy Snively – There's nothing I can possibly say that would communicate the depths of my admiration for you and your incredible work. Thank you for making FaffCon a reality and giving the voiceover community such an incredible resource.
Paul Snively – It was wonderful to meet you and I am very grateful for all your hard work keeping things going behind the scenes!
Devon Stewart- I was pleased to be able to provide an introduction to good Scotch to you! Looking forward to having a dram at the next FaffCon with you. 🙂